By: Atul Prasad Deb Nath and Kshitij Raj
Stage: Intermediate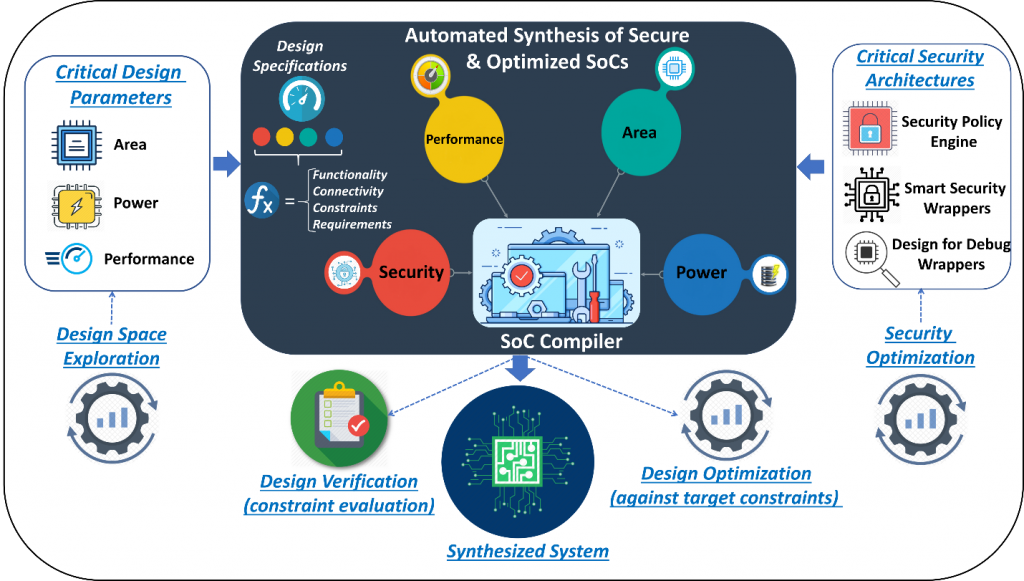 Summary
This a novel CAD framework and EDA tool, namely secure SoC Compiler aka SoCCom, for automated synthesis of secure and optimized System-on-Chip (SoC) architectures. The developed technology streamlines the integration of security features into existing design flow while enabling automatic IP integration and design optimization through a configurable tool-flow-methodology (TFM). The TFM enables the generation of a wide variety of secure and optimized SoC designs by:
Automating the process of IP integration and allowing configurable assembly of complex, scalable systems
Enabling systematic integration of security features to generated SoCs and ensuring system trustworthiness via correct by construction security architectures
Facilitating the evaluation and optimization of generated designs in terms of critical system parameters ie, power, area, performance, and security.
Contact
Input/Output Interface
Input

: JSON file describing the SoC components and security requirements

Output

: Synthesizable Verilog and SystemVerilog RTL
Dependencies
Design tools for FPGAs: Xilinx Vivado / Altera Quartus
Design tools for ASICs: Design Compiler
Scripting: Python 3.6, Bash, TCL support.
Licensing
Proprietary, Undergoing patent filing process